Want to fast track legally completing your whole Sword and Shield Pokedex?

Want epic pokemon to share, trade and battle with friends? 

We are going to send you the complete Sword and Shield Pokedex sameday! 

Pokemon Sword and Shield take place in the Galar region, a large, narrow expanse of land and one of many regions in the Pokémon world. Leave it to us to get you over pokemon same day that will complete your entire pokedex. 
All
Pokemon Sword and Shield Base Game 
All of the pokemon included in the Isle of Armor DLC 
All of the Pokemon included from Crown Tundra 

*Pokémon included are copies of officially/uniquely caught ones*   
All Pokemon will have a Shiny Variant - If we have a normal copy it will be included too
we will include one form of each - not all forms can be included 
If a Pokemon is Shiny Locked you will get a normal variation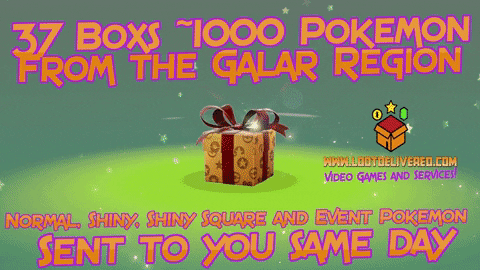 Now includes Event exclusive Generation 8 Pokemon: 
(event pokemon means you have to go to a movie or event to get the Pokemon to download to your switch) 

Dada Zarude (Japanese Movie exclusive Zarude with scarf) 
Jungle Zarude (Western Zarude without Scarf) 
ALL Ash's Pikachu 
25th Anniversary Pikachu 
Adventure Volcanion (Korean 2021 E) - 
Adventure Genesect (Korean 2021 E)
Adventure Marshadow (Korean 2021 E)
Rock Star Toxtricity - Shining Fates Release 
World Fair 2020 Gigantamax Coalossal 
World Fair 2020 Gigantamax Lapras 
Pokeball + Mew 
Shiny Meltan
Mister Donut Chansey 
Professors Mewtwo 
 Let's Go Eevee Release eevee
Giovanni's Mewtwo - US Release 
Tournament Gastrodon
VGC20 - Porygon2
JUMP 2020 - Snorlax 
Trainer Cup Battle - Amoonguss
Mewtwo Strikes Back Charizard 
Isle of Armor Release - Corsola 
Isle of Armor Release -  Meowth
Isle of Armor Release - Ponyta
Isle of Armor Release - Galarian Mr.Mime

DO NOT ORDER IF YOU DO NOT WANT TO SPEND TIME WATCHING A VIDEO GUIDE. 

After you order, your email and phone number get placed into our queue. Before we close we will send you over everything you need in order to get your Pokémon. Expect a text and an email if you are in the USA and gave us that info. If you are outside of the USA we will shoot you an email. 

In order for you to receive your order, you need: 
A Nintendo Switch with Pokémon Home premium.
Pokémon Sword OR shield (physical or digital copy, does not matter). 
20 Minutes of free time. 
Having extra Pokémon to trade is unnecessary - you are not trading.  
You're password is not exchanged, we do not need it nor want it. 
Transfer keys are not accepted with this method, please be free for 15-20 minutes to use the guide we send you.  
Can these Pokemon be used online? 
Yes! These pokemon were collected to be used in Pokemon Sword or Shield 


Will this complete my Galar Pokedex? 
Yes!
Are they battle ready? 
Most are, IV and EV varies. Moves are random. Levels are random. 

Can you give me custom Pokemon or OT? 
These Pokémon are clones  - no. 

How soon do I receive this?
Eta is always same day, you will hear from us as soon as its ready for you and we see your order in our daily queue. 

What do I need to complete this? 
A copy of either Pokemon Sword or Shield. 
Pokemon Home Premium  
A Nintendo Switch 
The guide we email you. 

Do the pokemon come with items? 
No, thats not how Pokemon Home works. (items don't transfer). 

Are you going to ask me for my password or any personal details? 
No. You should not share this information with anyone, ever. 
Should I be worried if outside of the USA? 
No, thankfully this service and Pokemon are not region locked like most of our
enhanced games. 
When you order, we will shoot you an email when you are ready!
If its been 24 hours or longer
, check your spam or shoot us an email at support@lootdelivered.com as you should have already heard from us and completed your order. 
Was quick and easy process give them a try
Pokemons Sword & Shield pokedex completion
Sameday response got a quick response even though it was US thanksgiving day only took a couple of hours for response and 20mins of my time really easy and really great service
Amazing service, was able to complete my gen 8 Pokédex and get the event Pokemon I never had a chance at getting. Thank you you guys, will definitely order again!