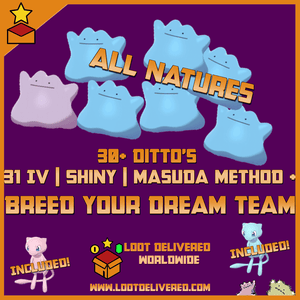 Ditto, is a Normal-type Pokémon introduced in Generation I. Ditto is a unique Pokémon because it can breed with any Pokémon in a Day Care Center regardless of its gender, except for another Ditto, Legendary Pokémon, Unown, Nidoqueen, Nidorina, and Baby Pokémon.



2 Boxes of DItto, all natures with 31 Iv and or 6 IV for breeding and training help. 
Legal Mew and Shiny Mew (no extra cost)

Dittos will be from USA, Japan and various other places. 


How to receive your order: 

Phone OR switch
Pokemon Home Premium
10 Minutes of time


When your order is ready We will let you know by email and text. We will ask if it is a good time to get started and send you this guide. 

Once your ready too, we will take your transfer key and it will move our account's Pokemon to yours. No Passwords needed to be exchanged, No hassles. 
Click here if you need all the pokemon from Gens 1-7. 
Click here if you need all the pokemon on the Nintendo switch. 




Expect fulfillment sameday, typically minutes after purchase - depends on all our orders of the day. 
Second time buyer. Once again great customer service, fast delivery, and easy to do. Will be buying again in the future. Thanks again team!
Amazing got me shiny really quick definitely would recommend
2nd time buying from them! They never fail to amaze me with good customer service! Get it while you can!
Very fast and excellent service! I have used their services 3 times now and each time was a fast courteous experince. I highly recommend and will definitely use them again in the future!