All Legal Pokemon within Let's Go Eevee & Let's Go Pikachu


(Shiny & Nonshiny set) - 12 boxes of Pokemon
*Shining Mew is not legal in this game and is not included, you will receive 2 regular mew instead.
Levels: Random, 1-100



This set was specifically collected for use in the Let's Go games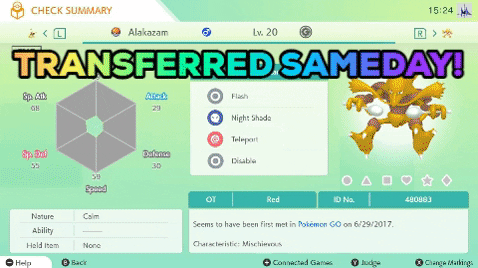 🌟Bonus🌟 S RANKED COMPETITIVE TEAM: 
Mew (needs Move tutor) - Timid Nature - 6IV - Level 100
MewTwo- Mild Nature - 6IV - Level 100
Dragonite - Brave Nature - 6IV - Level 100 
Gyarados - Adamant Nature - 6IV - Level 100
Arcanine - Lonely Nature - 6IV - Level 100


Looking to becoming a Pokemon Master in Lets Go? Need to slap a few friends online or beat a challenge or two? Look No further we have you covered here at Loot Delivered. 

After you order, you can expect us to get to work duplicating sets of Pokemon straight from the Let's Go games so they work exclusively for your game. 

We take Pokemon that were legally caught the past few years on Let's Go on the Nintendo Switch and duplicate them for you to use for years. 

All you need is a copy of Pokemon Let's Go (Eevee or Pikachu), 20 minutes of time and Pokemon Home Premium! 



How soon can I expect my order? 
ETA is always going to be sameday. As soon as you order your email and phone number are placed in our queue and we get to work on building out the order. We will contact you via text (if in the USA) and email when its ready. 
How do I complete my order? 
You need: 
Pokemon Lets Go  (digital or physical game works) 
A Nintendo Switch with Pokemon Home Premium 
~20 minutes of time with our guide we send you. 
How are the Pokemon? 
The Pokemon are not hacked, so they will be random levels and IV. 
EV is not trained and natures are random. You will get a Normal version of a Pokemon and a Shiny version. Both are legal and work online and in battle. 
Will you hack these Pokemon for me? 
No. Gen 7-8 is complicated and hacking them can cause issues with using them on the internet and in the future so we only duplicate. We cannot change OT, anyone who asks us to hack them something will be ignored. 
Where are the reviews for this? 
We completed our Pokedex for Let's Go in July of 2021, it was a process. 
Pokemon from Let's Go only are for Let's go, they do not work well in Sword and Shield and other games so this set is exclusive for the game. Enjoy with confidence. 
Amazing
It's amazing how everything with the game 10/10
Amazing service!
They walk you through the whole process, order was delivered in hours. Highly recommend superior service and super fast delivery give them a try!
Just great that is all I have to say